It's a bit of a downer when you want to travel but you can't afford to go where you'd want, isn't it? Well, from my point of view, that only means one thing: that I haven't yet found out about the other places I'd like to visit.
The world is such a big and wondrous place, and you'd be mad not to want to visit it extensively.  But that's not something most of us can afford, so we have to make priorities and balance them against our actual possibilities. I've always wanted to travel, but I still can't afford to see all the places on my list. My common sense solution was to research for other beautiful places, search for anything I would consider exotic, stimulating and culturally rich, something that would be able to offer me a unique experience.
I would assume that for most of you, just as it is for me, the holidays are the perfect opportunity to travel. Not only because of the free days we get off work, but also because the holidays are supposed to be special. And traveling makes any day special. However, it's even costlier to travel during the holidays, so sometimes you feel like you have to settle.
As I was saying earlier, it's all about knowing what your options are. And in this post I want to introduce you to some of those options. Okay, maybe my title kinda gave it away. But have you ever stopped to really consider Pakistan as a holiday destination? Probably not, because you think it's too far away, and flying there is expensive. And that's where you'd be wrong, because there are many more airlines with flights to and from Pakistan, which naturally creates the opportunity for cheap flights to Pakistan from around the world.
So whether you live in Europe, America, Australia, or Asia, you can definitely find flights so cheap that you won't be able to ignore them. And if you plan ahead, you can go visit during holidays too, at just about the same cost. There's nothing easier than planning a vacation for the holidays, because you know exactly what's your available time period, so you can buy tickets months, even a year ahead! 
Another great opportunity I see in visiting Pakistan is that there are several great cities you can choose from, and you can find connecting flights for all of them. These are some of the cities I want to tell you about below. And I'd like you to consider visiting more than one of them if you take the trip to Pakistan. In many cases, depending on where you're traveling from, you will have access to direct flights to Islamabad, the capital of Pakistan. But I advise you to stop not only here, and explore other parts of the country as well.
You'll see what I'm talking about and I would insist, but let's start with your landing. You arrive in Islamabad. 
Islamabad, the capital city
The capital of Pakistan is a relatively young city, in fact it's a very young city. It was projected and built starting in the 1960s, and although it is only the 10th largest city in the country, it is with certainty the most important, both politically, economically, and culturally. 
Islamabad does a very good job of combining the old with the new, the traditional with the modern, and this makes it the perfect destination for your first contact with the country. Though new, it still illustrates and represents the country's history and culture. Here, you'll have the opportunity to visit and learn more about different monuments and institutions and what they mean for Pakistan. For instance, you definitely don't want to miss visiting the Faisal Mosque, which until a few years ago, stood as the largest mosque in the world. 
To actually learn more about the country's history, visit the Pakistan Museum and Monument, which are both architectural marvels and great symbols of what the country stands for. And if you'd rather immerse yourself in the culture and traditions, spend a few hours at the Lok Virsa museum. 
If these landmarks sound too stuffy for you, remember that Pakistan is a country worth visiting even more so for its great natural beauty. This is supposed to be your holiday vacation, so you're looking for some fun and relaxation. Well no matter the time of year you go to Pakistan, you'll be met by moderate temperatures. Now an interesting fact about Islamabad is that it's night next to the Margalla Hills National Park, which is renowned around the world for tourists who want to go trailing, hiking, biking, or skiing. 
There are numerous opportunities for outdoor activities starting in Islamabad and continuing towards Margalla Hills, which are sub-Himalayan. You can take a trip to the Pir Sohawa Resort, which is the ideal place to relax and enjoy stunning views all around. The Rawal Lake and the Daman-e-Koh resort are two more destinations neighboring Islamabad that you can visit for a few days.
2.Karachi, the largest metropolitan area
If you're interested in large cities, then right when you're finished with Islamabad, find some cheap flights to Karachi and hop on the plane. Meet Pakistan's largest city – 7th largest metropolitan area in the world.
There's a lot of action waiting for you in here, so let's get to it. Unlike Islamabad, Karachi is one of the oldest inhabited areas, so it's extremely rich culturally and traditionally. Karachi opens up to the Arabian Sea, so it's not only got great weather and landscapes, it's also an important port, and the country's leading industrial and financial city. 
But Karachi is also cosmopolitan, and even though it's had quite a rough ride even after Pakistan declared its independence from the British Empire and subsequently, while it searched for equilibrium in the 20th century, it has seen tremendous growth and improvements in recent years, which makes it one of the increasingly popular destinations for tourists around the world. 
What you're dealing with here is a highly populous and active city, brimming with life and events. Some of the country's most important museums and institutions are here, including, just to name a few, the stupendous Mohatta Palace (originally a palace for a Hindu businessman, now turned museum), the National Museum of Pakistan, or, if you're interested in country infrastructure and administration, you can visit the extremely interesting and fun Pakistan Airforce Museum and Pakistan Maritime Museum. 
If you're a cinema lover, you might like to align your holiday so that you're in Karachi at the same time as the Kara Film Festival takes place, one of the country's most important film festivals. 
As for the outdoors, I highly recommend the Karachi Zoo, the Hill Park with its breathtaking views, the Bagh Ibne Qasim which is a beachside park where you can admire the famous turtle pond, take pictures with the dinosaur murals, walk through the enormous rose garden, and perhaps attend one of the many events happening there. Finally, you have the Boat Basin Park, the Maritime Museum Park, or Mazar-e-Quaid, also known as the Jinnah Mausoleum, and which is, besides a wonderful monument, the resting place of Pakistan's founder, Muhammad Ali Jinnah.
3 Lahore, the heart of Punjab
Get deeper into the heart of wonderful Pakistan by visiting Lahore. This time you're dealing with the capital of the region of Punjab, closer to the border with India, and considered one of the wealthiest cities in the country. 
This also makes it a popular tourist destination, which means, lucky for you, that there's lots of cheap flights to Lahore. So what can you do here? Quite a lot.
Lahore is Pakistan's most open and liberal city, but it stands on very old history. Here you can visit some of the country's most beautiful and important landmarks, such as the Lahore Fort, also known as Shahi qila, and which is a citadel built in the 1500s. It's the perfect opportunity to get yourself acquainted with historical Pakistani architecture. You get to admire over 20 hectares of Mughal architecture, and inside it, landmarks such as the Alamgiri Gate, the Sheesh Mahal, Moti Masjid, or the Shalimar Gardens, all which together make this a UNESCO World Heritage site. 
Notable mosques in the city include the Wazir Khan and Badshahi. Lahore is also considered Pakistan's modern culture hub, where the literary, musical and cinema scenes meet. Don't hesitate to attend a Qawalli music concert to listen Pakistan's traditional music.
Last but not least, visit Lahore's Walled City, home to numerous havelis that showcase Mughal and Sikh architecture, and some of the old city's historic neighborhoods.
4. Multan, home of the Holi festival
While you're in Punjab, take advantage and go see the city of Multan, situated on the Chenab River, and home of numerous Sufi temples and mosques. If you're not passing through Lahore first, you can find cheap flights to Multan directly from Islamabad, or your own country.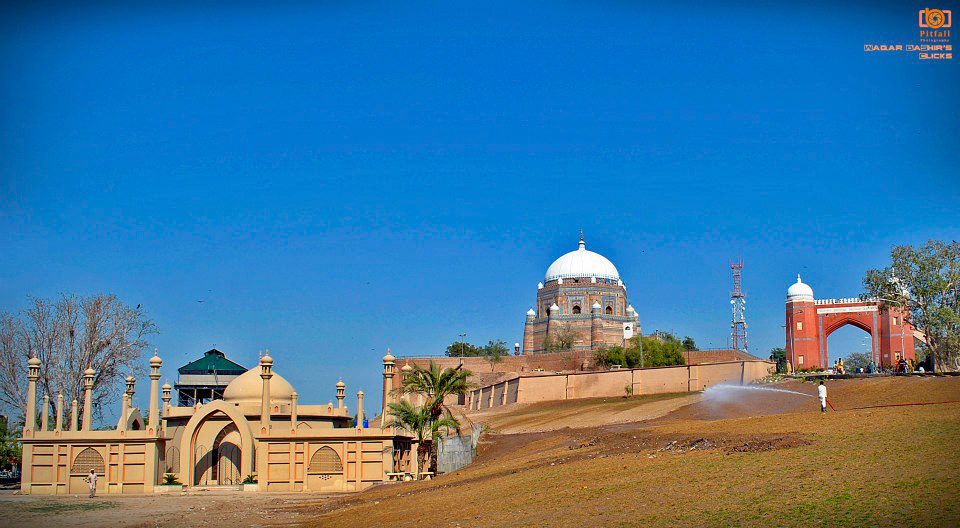 In Multan, you can immerse yourself in the country's spiritual side as you visit the numerous mosques, temples, bazaars, shrines and tombs. The city, as the whole area of Punjab, is a much better representative of the Hindu-observing population. The most important Hindu temple is the Prahladpuri Temple, which, you'll be interested to hear, is where the Holi festival originated. So it's definitely worth aligning your trip at the same time that the Holi festival takes place, and celebrate the most colorful event with locals and people from around the world. 
The Prahladpuri Temple is located inside the Fort of Multan, and together they represent some of the oldest landmarks in Multan – which is considered one of the oldest settlements in the world, at least 6000 years old.
5.Faisalabad, the city of living culture
We're staying in Punjab to visit Faisalabad, which is also a relatively young city in Pakistan, as one of the first cities planned under British Rule. Today, Faisalabad is a cosmopolitan city with high quality of living owed to its inclination for distribution and industry. A lot of its welfare is also due to the rich agriculture in the surrounding area, which turns into business inside the city.
 But what you'll want to visit Faisalabad for during your holiday is its lively character, its eclecticism, and its active, dynamic interest in culture and the arts. First of all, it's the hub of Punjabi festivals, and numerous other celebrations of music, arts and crafts, and countless local events celebrating various aspects of Pakistani life and history. And if you're visiting for Christmas, you can celebrate it with others at one of the Christian churches in the city. 
Because it has a large international airport, you can find cheap flights to Faisalabad from your home, or from other cities in Pakistan. Faisalabad is also probably the best of these three cities to experience local Punjabi cuisine, which still has influences dating back to the Mughal period, and which has been refined and enriched under Colonial rule.